Counterfeit Money Detector AD-2138, Includes Delivery
HIGHLIGHTS
Perfect for small and large business
Detection of Forged and Counterfeit Bank Notes, Credit Cards, Travellers Cheques, Fluorescent Stamps & Other Legal Documents
Protects you from fake notes
Easy to use
Includes Delivery
FINE PRINT
Please enter daytime delivery details, PO Boxes not valid
Delivery will be in 3-5 working days
Additional Charges may apply for delivery to outlying areas
Subject to availability
Limited number available
Picture displayed is a representation
Return Policy:Notify Info@crazedeals.co.za within 3 days of delivery.
Returns are accepted only if in original packaging.
Opened packages will not be accepted for returns.
Defective products need to be returned for an exchange of product
Whether your business has taken a loss from a counterfeit bill or you are taking preventative steps to detect counterfeits before they hit your cash tills. These machines help businesses detect counterfeit bills with easy to use UV counterfeit bill detectors, determine if it's counterfeit or if it has passed Scrooge McDuck's swim test.
Overview: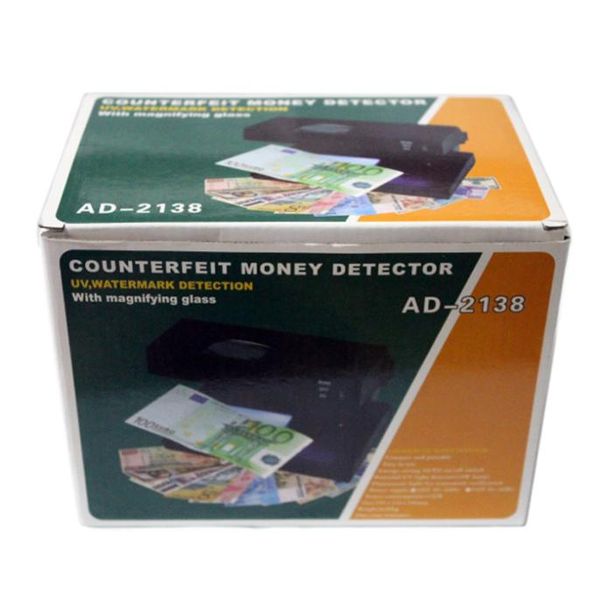 Verify Currency Notes, Debit Card, Credit Card, Passport, Stamp Paper and other secured documents
Compact and Portable
Easy to use
Energy Saving Auto on/off switch
Powerful 15w UV light detector
Floroscent Light for Watermark Verification
Power Consumption:< 10W
Size: 190 x 130 x 140 mm